Christie & Co report highlights European travel trends and hotel investment hot spots
Europe is still the most appealing destination and most visited region in the world in 2017, despite some disruptions faced in recent years, according to a report published today by Christie & Co.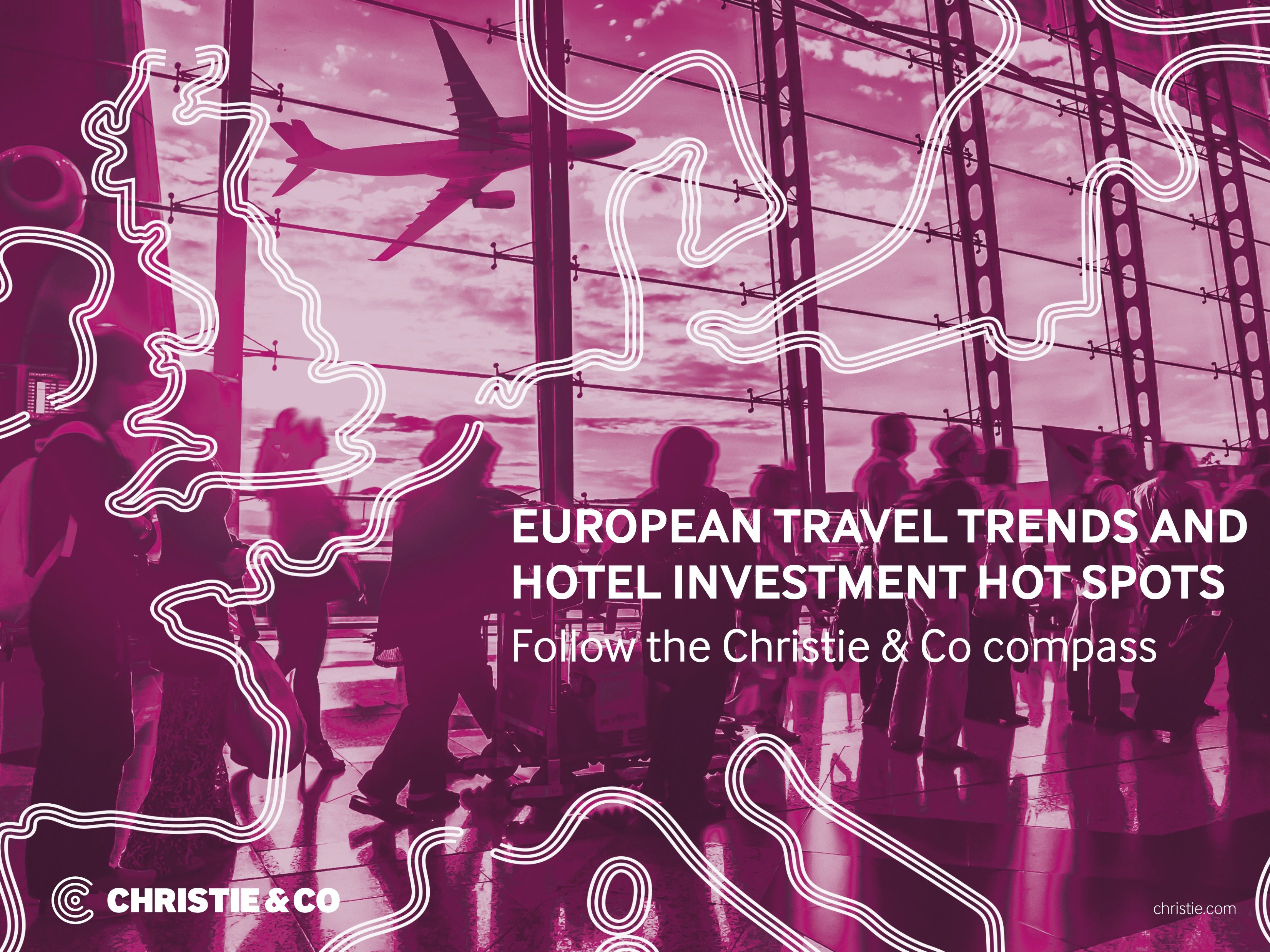 The report, launched by Christie & Co's Hotel Consultancy team and entitled 'European Travel Trends and Hotel Investment Hot Spots' identifies future investment opportunities in the European hotel market  by highlighting areas for increasing the value of visitation in the European market, reviewing the growth opportunities of feeder markets in Europe, analysing issues surrounding accessibility and airport capacity and highlighting which markets are expected to achieve strong RevPAR increases in the coming years making them ideal candidates for investment.

Despite other reports detailing the impact of Brexit, to date, the impact on European tourism remains unseen and Christie & Co predict the general positive outlook for tourism in Europe will translate into increased demand for accommodation. European travellers remain the key source for European destinations with domestic and other European travellers accounting for almost 90% of demand. The established feeder markets including the US, Canada, Japan and Australia continue to generate visitation growth for the European market. India and China are expected to experience healthy GDP growth over the next five years and both have populations over four times the US and affluence continues to rise. Thus, creating tremendous visitation potential for the old continent.

Christie & Co have identified two opportunities for increasing the value of visitation in the European market; firstly, Spain and Greece lag behind Western and Northern Europe in terms of value of visitation per international arrival. Christie & Co sees a real opportunity to boost the value of visitation by improving the quality of the hotel stock. Secondly, there are good branding opportunities across the European market as the hotel stock in the majority of European markets remains currently heavily unbranded and in need of investment.
Airport capacity remains a key challenge as accessibility is one of the key drivers for tourism. Christie & Co have analysed eleven major airports in this report and the findings reveal that seasonality concerns can be mitigated through providing additional flights during the shoulder season, making seasonal destinations more attractive outside of their peak times. If airport capacity is addressed promptly it will create wider development opportunities for hotels and further infrastructure.

Anna Eck and Marine Duchesne from the hotels consultancy team at Christie & Co comment, "The findings of the report show quite clearly that whilst Europe as a destination remains extremely popular, there is huge opportunity for international brands to grow in the region. Markets such as Iceland, Poland, Denmark, Portugal and Sweden provide options for hotel chains whilst Ireland, Spain, Portugal, Poland and Sweden would be ideal for opportunistic investors willing to take more risk. These markets are all expected to achieve strong RevPAR increases in the coming years as well as demand growth in excess of supply."

Carine Bonnejean, Head of Consultancy – Hotels at Christie & Co comments, "We have worked closely with our European colleagues to develop this report and as a pan-European team we are able to offer strategic advice to maximise the potential of our clients' business and investments. The report finds that certain countries are ideal for different types of investor and we are able to identify which cities in those countries are worth prioritising. Whatever the situation, we help to formulate a strategy to generate the best outcome."

You can download the full report here.