Hotels with mixed-use concepts – A growing trend
Frankfurt. More and more, hotels are being incorporated into mixed-use concepts. A recent study by Christie & Co has revealed what mixed-use concepts involve nowadays, pinpointing the benefits as well as the challenges. In the study, the hotel property specialist questioned reputable project developers and hotel operators.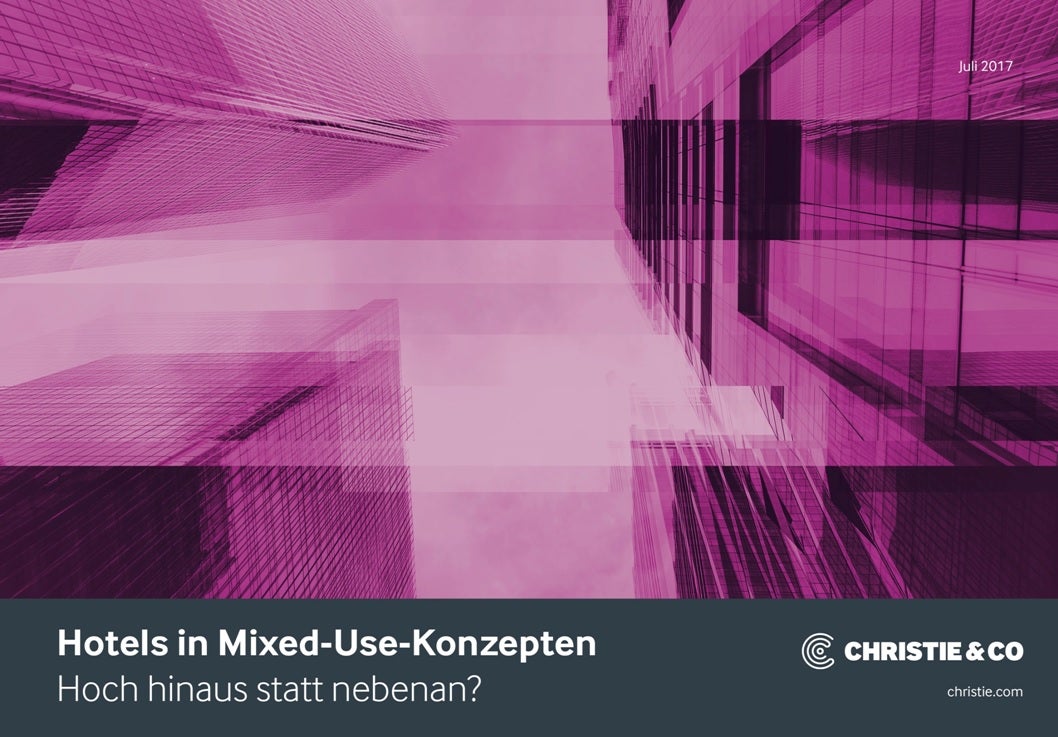 According to the Christie & Co study, there are different aspects to mixed-use concepts. Alongside the traditional distinction between a usage mix (i.e. different usages distributed between several buildings) and mixed use (various usages combined in a single property), the hotel expert identified other emerging trends. "The hotel sector has reinterpreted the whole idea with new open-lobby concepts. As communal areas of hotels are rediscovered, conventional functional areas are amalgamating and many brands are bringing additional usage types under one roof," says Constanze Maas, Associate Director Advisory & Valuation at Christie & Co and the author of the study. Examples would include the new Holiday Inn hotels with a Starbucks, 25hours Hotels with kiosk operated in partnership with publishing houses and the Two Wheels Good Pop-up Store, which rents out bicycles. As Sebastian Nowak, Senior Consultant Investment & Letting at Christie & Co and co-author of the publication, adds, "As far as most players on the hotel circuit are concerned, mixed-use is no longer limited to a property, project site or complex of buildings – it now involves the entire neighbourhood and town planning." Indeed, Christie & Co have noticed this form of urban development making a comeback as the boundaries between professional and private blur.

Several factors are driving this combination of hotels and different usages. "It has become hard to realise large-scale construction in sought-after inner city areas because the requirements of the public sector, which determines usage, have risen dramatically. To maximise the utilisation of limited space in an economically viable manner, it is necessary to link various usages together. Hotels make up a particularly promising asset class. Even though an operator-run property entails more risk, higher yields can be attained – and in times of yield compression, that is an advantage that should not be overlooked," says Nowak. In the case of conversions, he believes, this also explains why the usage type of hotels is often seen as the answer to problems.

With urbanisation increasing, vertical concepts – coupled with competition for ever scarcer floor space in the main conurbations – appear to be gaining ground. The process is being encouraged by one current development in the hotel sector that is enabling hotels to be incorporated into mixed-use properties in many cases: "We are seeing a shift away from the traditional lobby, with a reception area and entrance on an eye-catching ground floor. Given that ground floor locations are so fiercely competitive and expensive, more and more hoteliers are turning to alternative usage types," explains Maas. Rent levels are generally highest in this area. What's more, lifestyle hotels in particular, such as The Flushing Meadows Hotel & Bar in Munich and the renowned 25hours Bikini Berlin, utilise this as an exclusive marketing factor to offer impressive top floor restaurants with city views. "Lifestyle hotels especially revolve around creating experiences for guests and residents and shaping destinations. In the future, this approach will be critical in terms of producing a USP," says Maas.

Although there are many reasons to favour mixed-use concepts and hotel integration, Christie & Co highlights several of the obstacles that must be considered:
A range of construction requirements, including supply shafts and soundproofing.
The needs of tenants must be considered when negotiating lease agreements; different lease terms for different usage types are commonplace.
The much higher need for coordination and the division of operating costs can lead to complications.
Last but not least, the sale can be a major hurdle. Many investors divide usage types into different investment vehicles. This makes it harder to sell in particular large-volume projects with different asset classes to institutional investors.
 Despite this, the hotel property experts have no doubt that mixed-use concepts will continue to drive the market thanks to their many advantages. According to Nowak, the mixed use model represents an opportunity for both developers and future owners to spread risk. "The wide range of usage types significantly lessens the danger of the entire property folding up," he advises. Moreover, he points out, effective realisation generates synergy between the various types of usage – which in turn is good for business.