New Record Year for Balearic Islands' Hotel Market
Christie & Co, Europe´s leading specialist hotel property adviser and broker, has published a snapshot of one of Spain's key hotel markets, the Balearic Islands.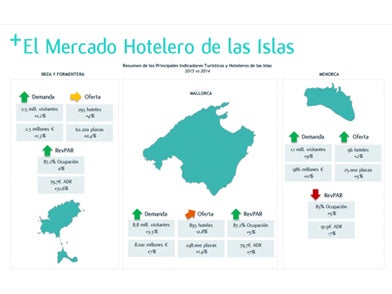 If this last summer has been considered "historic" in Spain, the Balearic Islands have been clearly the leading players in the sector, due to their excellent results, that were foreseen from the beginning of the year. In its latest report Christie & Co analyses the evolution of this key destination of the Spanish geography and identifies challenges and opportunities for the future.

Amparo Gómez-Angulo, Senior Consultant and author of the report said: "Following the clear role of the islands, especially Mallorca, during the summer season, we thought it was important to analyse the causes and effects of this unprecedented success. The study focuses on the analysis of both the demand & supply and hotel performance island by island, in relation to previous years, in order to identify major trends, both common and unique to each of them."

The report also takes a view to the shadows that success entails; and the Islands are facing significant challenges over the coming years, some traditional ones such as connectivity and seasonality, and more recent ones, like the introduction of a tourist tax and the growing rate of unregulated hotels in the touristic areas.

Inmaculada Ranera, Managing Director for Spain and Portugal, says: "After our last report 'The Keys to the Spanish Hotel Market Recovery', Christie & Co aims to provide useful information for the hotel market, launching studies regularly on those areas or cities that we consider relevant to the industry. In relation to the Balearic Islands, 2016 is expected to become another record season and the biggest challenge for them is to be able to consolidate as one of the most attractive destinations in the Mediterranean."