Recovery looks strong for Spain's Hotel Market in 2016
Christie & Co analyses supply, demand and performance of Spain's hotel market, with a special focus on Spanish key cities.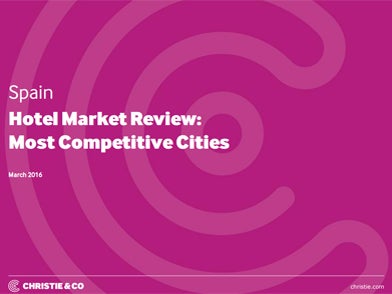 Leading specialist property adviser, Christie & Co has released a new report showing the significant return to profitability in the hotel market in Spain's most competitive cities.

Following some of the most difficult years for the Spanish economy, 2015 saw the widespread return of profitability to urban destinations. This is particularly due to the resilience of tourism.

The report analyses demand, offer and hotel profitability. The cities, chosen according to our criteria and coinciding with the UrbanTUR 2012 report produced by Exceltur, show an interesting evolution for the hotel market, not only in terms of profitability, but also for the tourist resources and other competitive factors such as the relevance of the destination, accessibility and the promotion policies from institutions which impact the sector.

Inmaculada Ranera, Managing Director of Christie & Co Spain and Portugal comments: "Following our recent report on the evolution of the Balearic market, this new study highlights the recovery of the main urban destinations most affected by the economic crisis, and how this, in general, has largely depended on the improvement of internal demand. There are exceptions such as Barcelona, however, which on an international level is already a well-established destination."

Madrid is already desirable amongst the European capitals with its rapid improvement over the last two years. Furthermore, cities such as Malaga and San Sebastian show that an appropriate promotion policy, alongside infrastructure development, is fundamental to sustain and expand the hotel industry.

The author of the report, Amparo Gómez-Angulo, Senior Consultant at Christie & Co comments: "We wanted to revise the outlook of the most competitive tourist cities. We have noticed a growing interest in the regions from not only tourists, but also from investors and operators.

"There has been remarkable growth in the arrival of national and international travellers in recent years, which has been a clear sign of recovery for the Spanish tourism and hotel industry. This creates a fantastic opportunity to adapt the current offering, including both the quality of existing hotel accommodation and that of tourist infrastructures."

The report predicts that this positive trend will continue into 2016.