Spain's most competitive Hotel Markets are gaining Momentum
Christie & Co, the leading specialist hotel property advisor, releases its update of the "Spain Hotel Market review: Most Competitive Cities".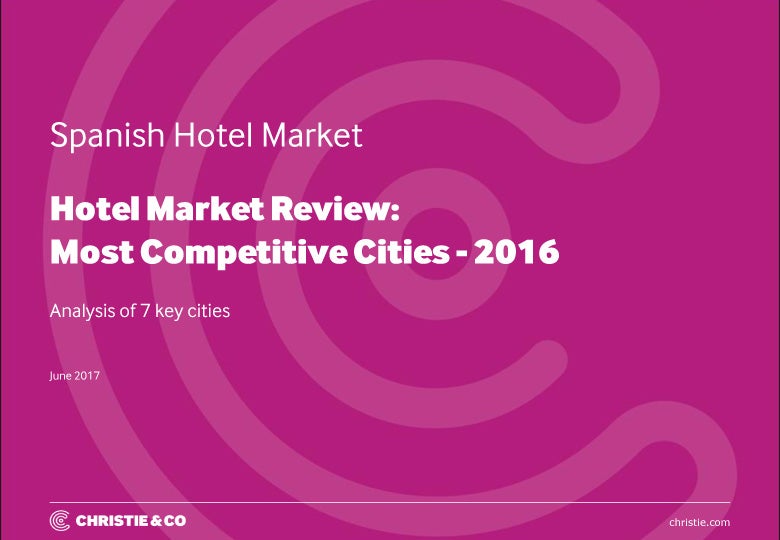 In last year's report "Hotel Market in Spain: Most Competitive Cities" hotel property specialist Christie & Co analysed seven of Spain's cities which were nominated to be the most competitive hotel markets by Exceltur's ranking. The report was well received by owners, operators and investors, both national and international, which is why Christie & Co recently released an update to show how the hotel markets of Barcelona, Madrid, Valencia, Seville, San Sebastian, Malaga and Bilbao have developed.
 
The report recorded a general year-on-year increase in overnight stays in 2016, registering a total of 52 million. The number of tourist arrivals also achieved a plus compared to the previous year, reaching 23.5 million. For the first time, in most destinations, international demand exceeded national demand.
 
Average room rates also reported gains in the period under review. San Sebastian is in the lead, followed by Seville. While Barcelona continues to be the city with the highest occupancy rates, Seville reports a greater increase compared to 2015. Madrid, on the other hand, only registered an occupancy growth rate of 1.5 per cent, however, shares second place with Valencia in terms of hotel supply, closely followed by San Sebastian, Seville and Malaga, while Bilbao is the undisputed leader.
 
Xavier Battle, Senior Consultant at Christie & Co in Spain, comments: "The results prove the strength of these destinations. The reviewed cities show clear recovery signs after the crisis, with a positive RevPAR growth in all of them, which is particularly striking in Seville and Malaga.
 
"Based on this data, it comes as no surprise that hotel operators and investors, both national and international, focus on the so-called 'most competitive urban destinations' when considering to open new hotels or invest in new hotel assets in Spain."

Read the detailed publication here.