Stays in Vienna increase by 32% making hotel market an investment honeypot
Specialist commercial property adviser, Christie & Co, has released a report on the hotel market in Vienna showing consistent growth and demand, as well as strong investment interest, in the first few months of 2016.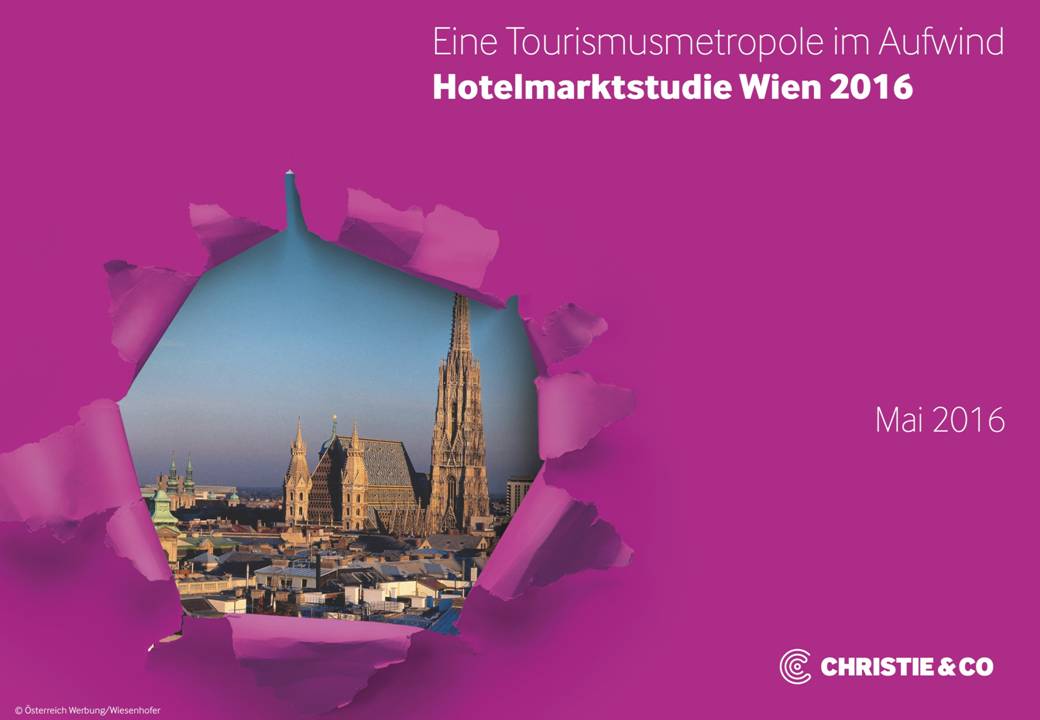 In 2015, Vienna recorded almost 6.6m arrivals, an increase of more than 6% year-on-year and an increase of 35% in comparison to 2010. Christie & Co reports that overnight stays show a similar trend: these increased by almost 6% year-on-year in 2015, and by 32% in a five-year comparison to reach 14.3m.
Latest data by STR Global, the leading provider of market benchmark information to the global hotel industry, confirm this upward trend. While occupancy showed only a moderate growth since 2010 to reach 73%, the average room rate witnessed a sharp increase of more than 10% to reach 100 Euros. With the planned rise of VAT for services in tourism from 10-13%, the prospects are uncertain. Yet, the increase in average daily rate (ADR) to date has had a positive effect on the Revenue Per Available Room (RevPAR), which has also swollen by 10% to exceed the 73 euro mark.
According to the Vienna tourism board, WienTourismus, there are currently 437 hotels totalling 33,335 bedrooms in Austria's capital (24.5% more than five years ago) and 10% more businesses.
Simon Kronberger, Senior Consultant Investment & Letting at Christie & Co, comments: "With growing demand, the requirements for Vienna's hotel market have also changed. On the one hand, new capacity has to be created continuously but on the other, there has also been a shift in guest expectations.
"These figures suggest that those hotels which opened in the meantime are, with an average of 160 bedrooms, relatively large in size."
On the investment side, more and more foreign investors are developing an appetite for Austrian hotels. Christie & Co reports that Germany ranks first for investment sources, followed by Russia and the MENA region, with France occupying fourth and the UK fifth place. It also reports that more HNWIs (high net worth individuals) are investing in Vienna's hotels, as well as institutional investors such as banks and insurance companies.
With more than 240m Euros per annum on average, Vienna's hotel investment volume has settled at a high level over the past four years. At the beginning of the current year, Christie & Co saw two deals with a total transaction volume of around 270m Euros: the acquisition of the Hilton am Stadtpark and the Imperial Vienna.
Kronberger observes, "There continues to be a high interest in hotel properties in Vienna. Since demand is currently significantly outstripping supply, the hotel investment market in Austria's capital can be considered a seller's market, putting high pressure on yields. Ratios significantly below 6% in good locations are not uncommon. Yet, according to Christie & Co, given the positive trading performance as well as overall robust political and economic preconditions, it can be assumed that the demand for attractive hotel properties will continue to rise.
Lukas Hochedlinger, Managing Director Germany, Austria & CEE at Christie & Co, adds, "After a short slump in the course of the economic crisis, Vienna has witnessed a boom as a destination, currently at its highest point in almost ten years."