The Canary Islands Hotel Market
Christie & Co, the leading specialist in hospitality property advice, releases its new report about the Canary Islands Hotel Market.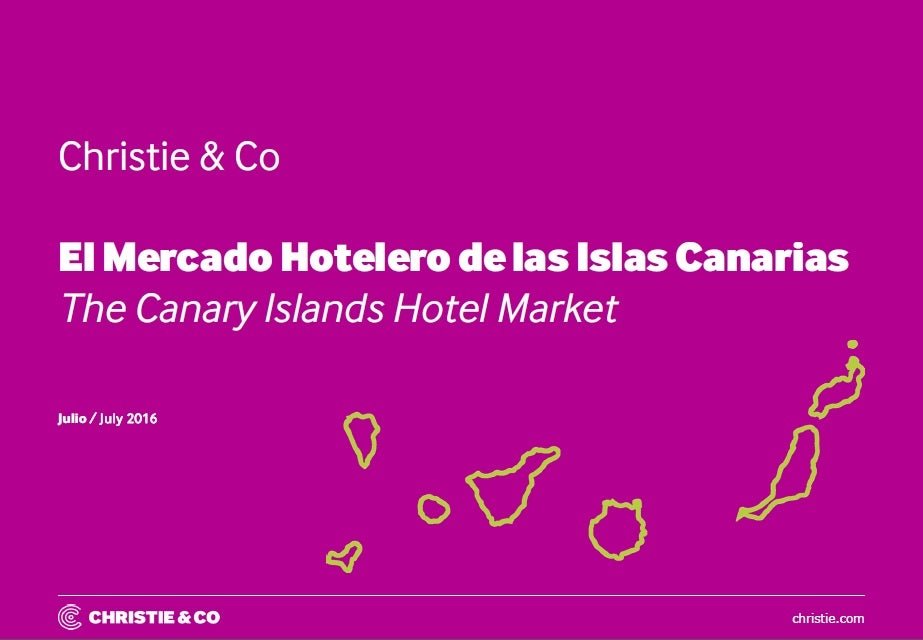 Spain has been beating tourism records year after year since 2010 and, with more than 45 million foreign tourists in 2015, the predictions for 2016 are even more optimistic. Between January and May 2016 the number of tourists exceeded 14 million (according to the National Institute of Statistics -INE) and all the data point to the achievement of the best touristic year in history. Being tourism one of the sectors that have best survived the effects of the economic crisis, the instability of other destinations in the Mediterranean (such as Tunisia, Egypt or Turkey) makes Spain take benefit on a touristic level. 

We have decided to include in this study the performance of this key destination of the Spanish geography in terms of demand, offer, profitability and investment appetite, as well as to identify the future challenges and opportunities, through an analysis of the four islands with the most business activity: Tenerife, Gran Canaria, Lanzarote and Fuerteventura. It is important to point out that the islands have already, up until May, received over 3.1 million tourists from abroad according to INE.

Inmaculada Ranera, Managing Director of Christie & Co for Spain and Portugal remarks: 'Following the latest reports carried out by Christie & Co, in which we have analysed the most competitive cities, or the Balearic Islands Hotel Market, we want to continue sharing our market knowledge with the sector community. This time, we have considered relevant to analyse the hotel market in the Canary Islands, one of the most demanded destinations in our country thanks to its mild climate, enabling it to not depend on seasonality like other markets, as well as its wide range of beaches and nature, amongst other attractions'.

Amparo Gómez-Angulo, Senior Consultant and author of the report, states: 'The tourist and hotel market in the Canary Islands has been attracting attention over the previous years as a favoured destination in our country from January to December. Within the coming years it will also face important challenges such as the diversification of its offer, the adaptation of the existing hotel supply or the development of new hotels due to the end of successive moratoria in recent years. The public administration will have to rethink this sector in a territory so appealing but also so needed of tourism in order to allow a sustainable growth and to continue generating wealth and employment for its residents'.