The Gresham Dublin – sold to Riu Hotels and Resorts for in excess of €90m
Christie & Co and CBRE Hotels are delighted to confirm that following an extensive and highly competitive marketing process, Precinct Investments Limited have sold their principal asset, The Gresham hotel, to Riu Hotels and Resorts for in excess of €90m.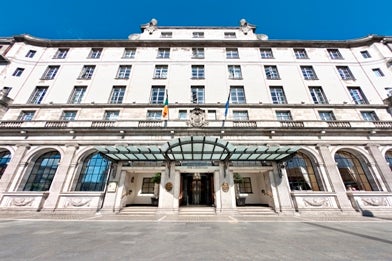 The sale of The Gresham represented a once-in-a-generation opportunity to acquire a landmark Dublin city centre hotel. The sale process attracted worldwide attention from a wide variety of investors including domestic and international property investors, high net-worth individuals, hotel funds, private equity companies and international hotel operators.

The process highlighted the level of international interest in Dublin as an attractive location for hotel investment. The fundamentals driving this international interest are compelling; Ireland is the fastest growing economy in Europe and this trend is set to continue. The number of overseas visitors to Ireland is increasing annually with a 17% year on year increase experienced in the first quarter of 2016. Dublin hotels enjoyed the highest growth in Europe for two consecutive years with RevPAR growth in 2015 of 23% and this trend has continued during the first half of 2016 with RevPAR up by 21% year on year (Source: STR Global).

Dave Murray, Director at Christie & Co Ireland commented, "The Gresham was a highly attractive proposition in that there is potential to improve the trade significantly through repositioning of the business, along with the active consent to extend the property by up to 145 bedrooms. Furthermore, the fact that a global hotel investor such as Riu Hotels and Resorts prioritised Dublin, ahead of cities such as London and Paris, as their second European city for their Plaza brand speaks volumes for the demand for Dublin hotels from international investors."

Paul Collins, Executive Director of CBRE Hotels added, "The Gresham is one of Dublin's longest-established, most popular and historically significant hotels dating back almost 200 years. The Gresham Hotel, and its new owners Riu Hotels and Resorts, will benefit considerably from the major developments planned for the area, many of which are currently underway. These include LUAS Cross City, the redevelopment of Clerys Department Store and the Dublin Central site opposite the hotel."

Commenting on the sale, Stanley Watson, Chairman of the Board of Precinct Investments Limited stated "We are delighted to welcome Riu Hotels and Resorts to Ireland and Dublin. This sale provides further evidence of the health of the Dublin hotel sector, after the recent sale of the Burlington Hotel, and we believe Dublin will continue to attract international hotel operators and investors. We also extend our thanks to all professional advisors involved, particularly our corporate finance advisors, LeBruin, and our legal and accounting providers, Matheson and PwC. All parties worked consistently as an integrated team leading to the successful completion of this transaction."